I set out for Michigan on September 23, a bit concerned about the long drive as this was my first solo adventure in a while. But I needn't have worried: the trip was a blast. What's not to like about nine hours straight of Harry Potter and the Half Blood Prince on CD, guilt-free? Then, in an impressive display of self-control, I hit the pause button long enough to attend the 32nd annual five-day HSP Gathering in Fennville.
Fennville is a small town close to the southeast shoreline of Lake Michigan. This lovely area, with fields full of sunflowers, raspberries, blueberries, pumpkins, and grapes, is home to the Sundance Center, where Ulla Frederiksen, her co-teacher Penny, and her herd of five horses practice equine-assisted therapy—a special feature of this Gathering.
I knew that Jacquelyn Strickland would be co-hosting the Gathering with Ulla, that we'd be spending a whole day with Ulla's horses, and that we didn't need to know how to ride. Other than that, I had no idea what to expect—from the horses, the people, or the Gathering itself.
What happens when you put 21 sensitive people in a room?
I found out our first evening what happens when you put 21 sensitive people in a room. It was great. First we got the lighting worked out so no one had a bare bulb in their eyes. Then we tracked down the annoyingly distracting hum we were all hearing: the pool filter. What a relief to take care of these environmental adjustments without fuss and without fear of judgment. No one said, "Hum? What hum? I don't hear a hum. You must be imagining it."
Once we were all comfortable, we began to share, filling in the blanks: "I found out about HSP when_____…and since then, I have__________." Some of us have known for 18 years, others for a few months. People shared in a thoughtful, heartfelt, quiet way, until one woman said, "I hope this doesn't offend anyone…but….I found out about HSP when I googled, "Why am I so f—ing sensitive?!"
We all burst out laughing, and at that moment we became a sympathetic group. Who among us had not wondered why we were so f—ing sensitive, or had "Why are you so f—in g sensitive?!" thrown at us by someone else?  The relief in the group was palpable: we all sensed that here, you welcome to be real. You are welcome to be intense. And you are not only welcome but encouraged to be honest and vulnerable.
Understanding HSP's as a subculture
In our culture, sensitive people do not always feel free be their real, intense, honest, vulnerable selves. We learn to edit ourselves, tone it down, and hold back for fear of being judged, and this takes a toll on us. This is why Jacquelyn Strickland founded the HSP Gatherings back in 2000 with Elaine Aron, the psychologist who first identified the HSP trait. Discussing the needs of HSP's with Elaine, Jacquelyn found herself framing sensitivity as a cultural diversity issue, emphasizing our need for community and connection with other HSP's in a culture where sensitivity is so easily marginalized or even stigmatized. The first HSP Gathering was born from her desire to meet these HSP needs for community and connection.
For me, Jacquelyn's cultural diversity awareness exercises at the Gathering were a revelation, offering me a new lens through which to view my experiences as a sensitive person. This broad view has also served to complement the "close-in" Focusing and listening work I do with sensitive clients.
In our mainstream culture, the paradigm of "have, do, be" predominates: "Once I have "x," then I can do "y," so I can be/feel "z."" We discussed how confused, discouraged, and disconnected HSP's end up feeling as they try to conform to this materialistic approach to life, and Jacquelyn emphasized that we need to start by defining what truly makes us happy. For HSP's, that always means living closely connected to our values and beliefs—ours, not necessarily those of the popular culture. We need to define what makes our lives meaningful, and set up our lives so we can focus on that.
My equine guru
For me, meaning comes from my sense of spiritual connection, and I've increasingly craved a more direct, palpable experience of that. The horses—our fellow highly sensitive beings—granted my wish.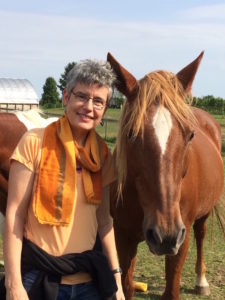 We observed the dynamics of the herd from a distance, then Ulla and Penny invited us to come closer. One of the horses came directly to me as I stood by the fence. She held her head very close to mine and I leaned my cheek into hers and held my hand on her face. We stood still like that for several minutes.
I could see into her great eye with its soft lashes. My chest filled up like a bubble. I felt as if I had received a divine transmission of love and presence, and somehow given it too. I can't capture it fully in words, but you can see it in my face in the picture.
A shift of perspective
Coming away from the Gathering, I realized I was seeing my life differently. Even though I'd been happy and content for a number of years —a blessed change after many years of terrible anxiety—I'd been critical of myself for not being more "successful." I'd always made enough money to meet my basic needs, but never much more than that, and I'd judged myself f0r not having earned more and for not having achieved the positions, honors, degrees I see peers achieving. The life I live is simple compared to many people.
"Compared to many people…." That's where I'd been getting snagged. Comparing myself to the mainstream isn't helpful. The truth is, I have a really good life: a sustainable balance of work and play, company and solitude, structure and flexibility. I have time for spiritual practice, time for friends and family, time for my garden. The way I live works for me, and I've experimented patiently for many years to get to this point. It's an ongoing process, and hanging out with a group of HSP's who are also thoughtfully, passionately engaged in that process was very heartening and helped me focus with appreciation on what I have done, rather than what I haven't done.
I'm profoundly grateful for that experience, and to Jacquelyn, Ulla, Penny, to my 18 sensitive human companions, and to our sensitive equine gurus for the Gathering and all the richness that came out of it. Thank you all!
For information about future HSP Gatherings, contact Jacquelyn Strickland.